I found this on another discussion board: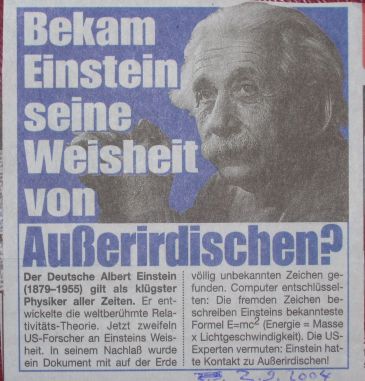 Translation:
Has Einstein had his wisdom from extra-terrestrials?
The German Albert Einstein (1879-1955) is counted as the most genius physicist of all time.
He developed the world-famous theory of relativity. Now US-scientist doubt the wisdom of Einstein. A document with characters, that are unknown on earth, was discovered in his estate. Computers deciphered the following: The foreign characters describe Einstein´s well-known formula E=mc² (Energy =Mass x Lightspeed²). The US-experts suspect: Einstein had contact to extra-terrestrials.
02.09.2004 (2nd September 2004)
The news is very old. The text is from the German newspaper BILD, that is similar to the SUN in the UK . It is a tabloid newspaper and very famous.
Does anybody know these scientists from the USA, that had contact to Einstein´s estate? I didn't find anything on the internet.
What are your opinions on that?
Last edited: